Preheat the oven to 350 degrees Fahrenheit (180 degrees Celsius). Meanwhile, prepare a glass casserole dish by coating the bottom and sides with nonstick cooking spray.
In a pinch, you could also use a metal baking dish instead of a glass casserole dish. The glass dish is less likely to taint the delicate flavor of the porous mushrooms, though.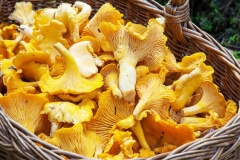 Prepare the chanterelles. The mushrooms need to be cleaned and cut before you can cook them.
Chanterelles can be intimidating to clean at first, but they are not overly difficult to clean once you know what to do. Use a soft toothbrush or nylon mushroom brush to scrub off any dirt or debris from the smooth surface of each mushroom. Then, brush out the gills of each mushroom with the same brush while holding the mushroom under cool running water.
Do not soak the mushrooms.
For this method of preparation, you should use a sharp kitchen knife to cut each chanterelle into halves or quarters. These mushrooms are meaty and best enjoyed in large chunks.
Arrange the mushrooms and onion in the prepared dish. Spread the mushrooms out in your prepared casserole dish and arrange the chopped onion over the mushrooms in an even layer.
The layers of mushroom and onion should both be even to ensure even cooking.
Onion is a good accompaniment to chanterelle mushrooms. The vegetable has a potent enough flavor to season the mushrooms but will not overpower the taste of the mushrooms like many other vegetables will.
Bake for 20 minutes in your preheated oven. Cover the dish with aluminum foil and let the mushrooms and onion cook until the onions begin to turn translucent and the mushrooms begin to feel tender when pierced with a fork.
Add the broth and cream. Remove the dish from the oven and uncover it. Pour the chicken broth and heavy cream into the dish and stir the contents of the dish lightly to combine them.
The ingredients do not need to be thoroughly combined, but the mushrooms should all be coated by the broth and cream.
Bake for another 15 minutes. Leave the dish uncovered and continue baking until the mushrooms and onion are both soft.
Note that the cream should not be allowed to boil. If it begins to bubble around the edges, remove the dish from the oven.